Live Information Stream
This live stream has ended, content is archived
Human Rights Watch calls for release of detained
The imprisoned CNRP MPs-elect are:
Mu Sochua, lawmaker-elect, Battambang
Men Sothavarin, lawmaker-elect, Kampong Thom
Keo Phirum, lawmaker-elect, Kratie
Ho Vann, lawmaker-elect, Phnom Penh
Real Camerin, lawmaker-elect, Svay Rieng
Nuth Rumduol, lawmaker-elect, Kampong Speu
Long Ry, lawmaker-elect, Banteay Meanchey
The imprisoned CNRP grassroots activist is Oeur Narith.
The first three were arrested on July 15 during the violent clashes which broke out at a CNRP-organised demonstration to protest the months-long closure of Phnom Penh's Freedom Park. Ho Vann was arrested later in the day when he voluntarily attended the police station. Real Camerin was arrested on the morning of July16. Nuth Rumduol and Long Ry were arrested yesterday afternoon at Long Ry's home. All of them have been charged charged under Cambodia's Criminal Code articles 28 and 218 (instigating aggravated intentional violence), 495 (inciting others to commit a felony) and 459 (leading an insurrectional movement). The latter charge carries a sentence of up to 30 years' imprisonment. All eight are currently held in pre-trial detention at CC1 and CC2 prisons
Yesterday Human Rights Watch issued a call for them to be released immediately and unconditionally and for all charges to be dropped. Brad Adams, Asia director, commented:
Opposition supporters, no matter how frustrated they were with having their rally broken up, have no excuse for severely beating security forces, yet that's no basis for the authorities to charge CNRP politicians with inciting violence, much less absurd counts like 'insurrection.' This is just another pretext for threatening opposition leaders with prison.
To read the full statement click here
Updated at 17:50 ICT
Ahead of his return to Cambodia Sam Rainsy has posted a statement on his Facebook page giving his thoughts on the current political situation.
Updated at 16:48 ICT
The Phnom Penh Post released powerful footage of Tuesday's violence between CNRP supporters and security forces. Dozens were injured during the clashes, the majority of whom were district security guards.
This ends our coverage for this evening. Please join us tomorrow for more updates.
Updated at 18:03 ICT
Party supporters gather at airport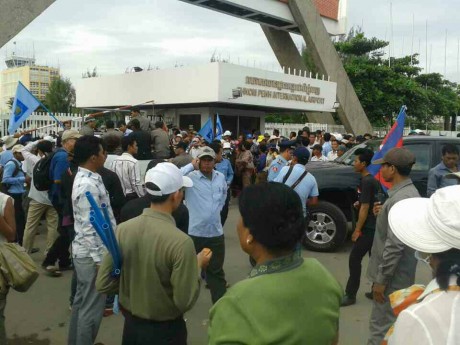 Good morning and welcome to today's live coverage of events.
Several hundred CNRP supporters have already started to assemble at the airport in anticipation of Sam Rainsy's arrival at 9 am.
Earlier this morning, armed intervention police were seen along the road to and outside CNRP headquarters in Chak Angre Leu in the south of Phnom Penh.
Updated at 08:11 ICT
international organisations condemn arrests
CNRP President Sam Rainsy is returning to Cambodia following the arrest and pre-trial detention of eight of his colleagues. A number of international organisations have expressed their concern about the arrests and called for the release of all those who have been detained.
The Office of the UN High Commissioner for Human Rights commented in particular on the insurrection charge:
We are concerned about the very serious charges which were brought against them, including 'insurrection', given the widely observed efforts by opposition leaders to calm the protesters and stop the violence during the clashes. Any politically motivated charges must be dropped immediately
You can read the full statement here.
The Inter-Parliamentary Union has referred the case to its Committee on the Human Rights of Parliamentarians for follow-up action and investigation. Their full statement is here.
The daughter of detained CNRP lawmaker-elect Mu Sochua has tweeted about the denial of access of family members to prison. So far no family members have been allowed to visit.
No luck with family visit to #musochua in prison. Need more permission. Try again tomorrow.

— Devi Leiper O'Malley (@devi_lo) July 18, 2014
Updated at 08:32 ICT
About this Page
Welcome to our hub for live coverage of significant political and human rights moments in Cambodia.
As situations unfold, we will provide on-the-ground updates from our field monitors and reliable sources, such as journalists and civil society partners.