Live Information Stream
This live stream has ended, content is archived
Hello, and welcome to LICADHO's live coverage of Cambodia's fourth commune elections. Tomorrow, twelve political parties will compete for 11,572 seats in 1,646 communes across the country. After two weeks of campaigning, polls will open at 7am.
Follow us for news on what's occurring across Cambodia's 25 provinces tomorrow.
The parties involved
There are 12 parties registered in the 2017 commune elections:
Cambodian People's Party (CPP)
Cambodia National Rescue Party (CNRP)
FUNCINPEC
League for Democracy Party (LDP)
Beehive Society Democratic Party (BDSP)
Grassroots Democracy Party (GDP)
Khmer National United Party (KNUP)
Cambodian Nationality Party (CNP)
Republican Democracy Party (RDP)
Cambodia Youth Party
Cambodian Indigenous Democracy Party
Khmer Power Party.
Only the CPP and CNRP are fielding candidates in all communes across Cambodia.
Updated at 17:56 ICT
The campaigns so far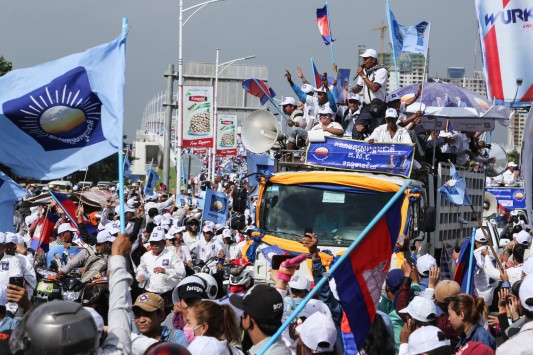 Election campaigning has been in full swing since 20 May. Campaigns are restricted to a two-week period: final campaign rallies were yesterday, and now parties are having a day's break before polling begins tomorrow morning. Campaigning was generally peaceful despite regular reports of low-level harassment, intimidation and confrontations between parties as well as disputes between the opposition Cambodian National Rescue Party (CNRP) and authorities.
The largest rallies were led by the ruling Cambodian People's Party (CPP) and opposition CNRP parties with about 15,000 to 20,000 taking to the streets of the capital for each party on the two weekends until campaigning ended on Friday 2 June. This final day of campaigning saw the biggest turn-out - in the morning, about 30,000 people marched in support of the CPP in their final campaign rally led by Prime Minister Hun Sen - the first time the premier had joined an election campaign since 1993.
The CNRP took their turn in the afternoon: tens of thousands of people took to the streets to march from Wat Chas, Chroy Changvar, around the city, led by CNR leader Kem Sokha.
Updated at 16:03 ICT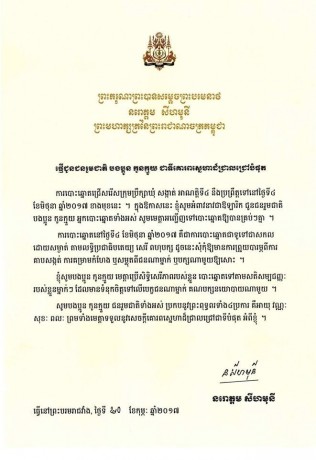 In February this year, the Palace released a statement from Cambodia's King, encouraging all Cambodians to vote in these elections 'without fear'.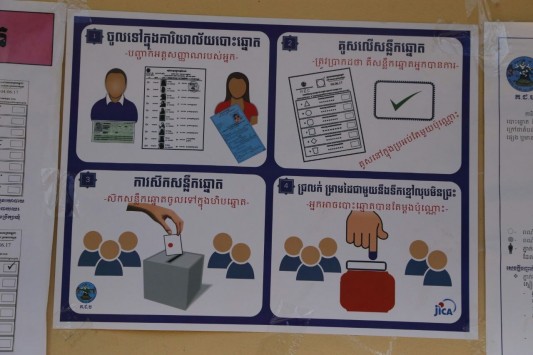 Polling stations across the country are preparing for tomorrow's vote, with ballot boxes set up and voting guide posters on the wall.
The results of these commune elections will set the stage for national elections next year. The European Union, which has provided financial support to the beleaguered National Election Committee (NEC), called on authorities in February to "ensure a political environment in which opposition parties and civil society can function freely" after the adoption of a new law in February allowing for the dissolution of political parties.
Just ahead of the election campaign the United States' State Department joined the call for elections free of threats and political intimidation. A spokesperson said the US urged the Cambodian government to "guarantee a political space free from threats and intimidation" as well as respect for freedom of expression. The US, too, has funded the NEC.
Updated at 17:03 ICT
Polling station preparation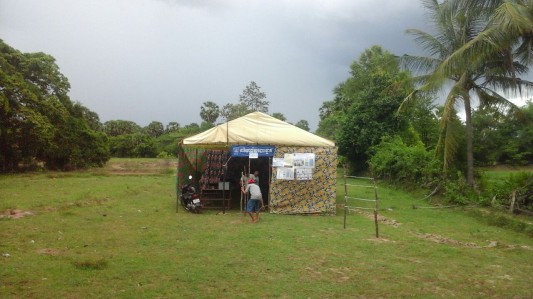 22,148 polling stations have been set up around Cambodia for the 7,865,033 people registered to vote tomorrow. Many are based in pagodas and schools, but in more remote areas - such as Krang Lvea commune, Samaki Meanchey district, Kampong Chhnnang - a few will find themselves casting their ballots in more unusual locations.
Updated at 17:53 ICT
On the campaign trail
The past two weeks of campaigning has seen thousands of supporters gathering in support of the two main parties.
Campaigns were mostly peaceful, although there were almost daily complaints of harassment and of infringement of the various laws governing the elections, including detention of supporters, blocking of roads, prevention of signs being erected, removal of posters and prohibition of election monitoring training. In the northern province of Oddar Meanchey, four monks were detained and ordered to delete social media postings from their phones which they were using to film restrictions placed on an opposition CNRP rally, including road blocks preventing supporters from reaching the rally.
CNRP Deputy President Mu Sochua reported that she had been prevented from campaigning near a street market by a CPP member of parliament and complained about intimidation by ruling party activists. In at least one incident, CPP activists said their route had been blocked by CNRP supporters.
A complaint was filed with a court in the north-eastern province of Ratanakiri against two journalists from The Cambodia Daily newspaper who were reporting on the election.
Election background
11,572 council seats in 1,646 communes are at stake tomorrow.
These are the fourth local elections to be held in Cambodia. The last round of commune elections, held in 2012 before the CNRP was formed, were dominated by the CPP: the ruling party won 8,292 of the total 11,459 commune councilor seats, or 72%, and 1,592 of the total 1,633 commune chief seats, representing 97%. The Sam Rainsy Party and Human Rights Party, which later combined to create the CNRP, together won 2,955 council seats and gained 40 commune chief seats – about 26% and 2%, respectively.
The 2013 national elections showed a very different picture. Faced with a united opposition, the ruling party was very nearly unseated. The CPP won 68 of the 123 National Assembly seats, with all the remaining 55 seats won by the newly-formed CNRP.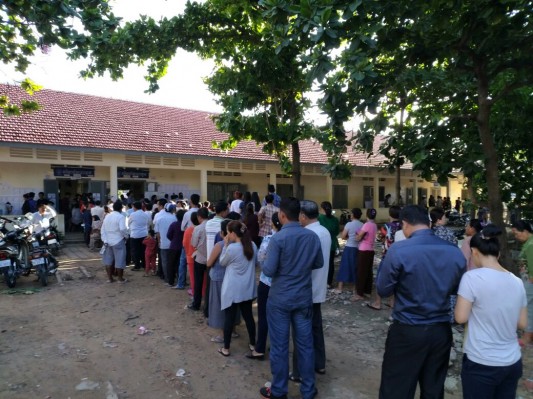 Voters have been lining up since 6am this morning, ready for when polling stations open at 7am. Voting will run until 3pm, and preliminary election results will be released by the NEC over this evening and tomorrow. The official results announcement is set for 25 June.
About this Page
Welcome to our hub for live coverage of significant political and human rights moments in Cambodia.
As situations unfold, we will provide on-the-ground updates from our field monitors and reliable sources, such as journalists and civil society partners.