Live Information Stream
This live stream has ended, content is archived
"Free the 23" Trial Day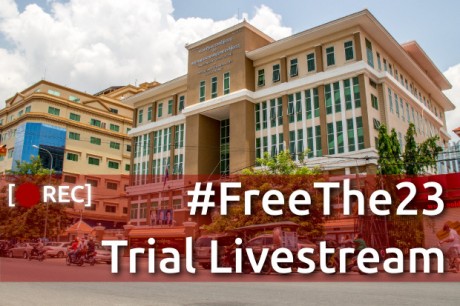 Welcome to LICADHO's coverage of tomorrow's long-awaited trials of workers and human rights activists arrested during deadly clashes in November 2013 and January 2014. There will be four hearings:
Two people, including one minor arrested on November 12, 2013 during the violent clashes between security forces, workers and members of the public which put an end to a march by SL garment factory workers in November last year.
10 men, including union and community leaders, arrested on January 2 outside the Yak Jin factory in Phnom Penh during a brutal assault by Special Command Unit 911 on striking garment workers. Among the defendants in this case are Vorn Pao, President of IDEA (Independent Democracy of Informal Economy Association), Theng Savoeun, Coordinator of CCFC (Coalition of Cambodian Farmer Community), Chan Puthisak, community leader from Boeung Kak Lake, and Sokun Sombath Piseth, staff member at CLaRi-Cambodia (Center for Labor Rights of Cambodia).
Three men arrested in the early hours of January 3 on Phnom Penh's Veng Sreng Road following a violent crackdown by armed military police on peacefully protesting garment workers as they danced in front of a factory, angering local residents and workers alike resulting in a chaotic night of clashes.
10 men arrested on January 3rd when mixed security forces were deployed to clear Veng Sreng road and in doing so killed at least four men and injured numerous others.
Updated at 16:31 ICT
This morning the Cambodia Daily reminded us that there has still been no justice for the families of those killed during the January clashes.
As Protesters Prepare for Court, No Justice for Dead http://t.co/UMbxcBpSIf

— The Cambodia Daily (@cambodiadaily) April 24, 2014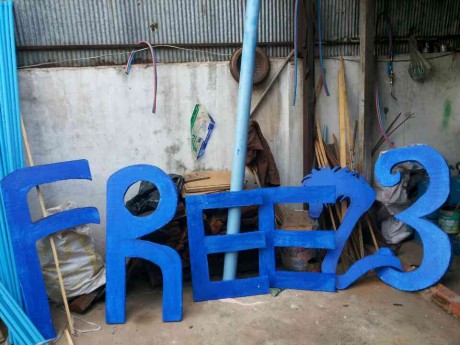 On the eve of tomorrow's hearing, Boeung Kak Lake community representatives have prepared materials for their show of support outside the court. One of their community, Chan Puthisak is among the group that will be tried tomorrow. They plan to arrive at the Municipal Court at around 8am.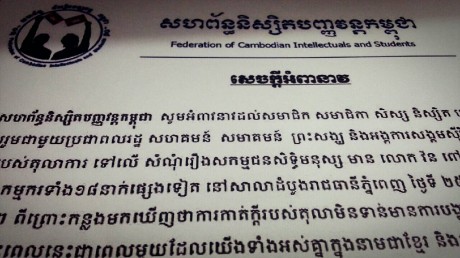 The President of the Federation of Cambodian Intellectuals and Students, Nich Teav, has published a letter calling on the group's members and all students to join the citizens, communities and monks who are gathering tomorrow at 7 am in front of the Municipal Court. The letter calls for freedom and justice and urges the release of the remaining 21.
A look back at the events surrounding the arrests
On January 3, local English language newspaper Phnom Penh Post captured graphic video footage of the deadly events of January 2 and 3 during which the 23 were arrested.
The remaining two detainees were arrested during unrest on November 12 which is shown here in a short LICADHO clip.
International pressure for release continues
The case of the 23 has drawn considerable international attention. Today FIDH, an international federation of human rights organisations, and its members LICADHO and the Cambodian Human Rights and Development Association (ADHOC), issued a statement calling for all charges against the 23 to be dropped. President of FIDH, Karim Lahidji said
Cambodia's judiciary must end this baseless prosecution of garment workers and human rights defenders who have been severely beaten, arbitrarily arrested, and detained for several months for peacefully demonstrating to demand an adequate minimum wage.
To read the full statement, click here.
Updated at 20:02 ICT
Trial day begins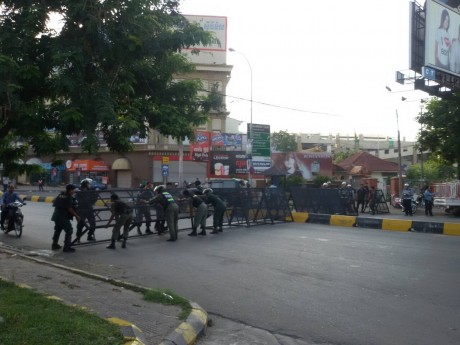 Good morning and welcome to our trial day coverage. The 21 defendants who remain detained arrived at court shortly after 6.15 this morning and a small group of their supporters are already gathering in front of the Municipal Court. There is also evidence of a heavy security presence with over 200 military police and police inside the Olympic Stadium opposite the Court. Road blocks are in place around the court from Sihanouk Boulevard to Wat Preah Pot.
Updated at 07:01 ICT
The four cases are being heard in three different court rooms:
Court room 1 – the ten men arrested in front of the Yak Jin factory on January 2
Court room 2 – the cases of the three men arrested on Veng Sreng Road in the early hours of January 3 and the case of the ten men arrested later that day also on Veng Sreng Road
Court room 3 – the case of the two individuals arrested on November 12, 2013 in Stung Meanchey
Observers present inside the court rooms include:
Destination Justice
Office of the UN High Commissioner for Human Rights (UN-OHCHR)
LICADHO
Civil Rights Defenders
American Bar Association (ABA)
Cambodian Human Rights and Development Association (ADHOC)
Cambodian Centre for Human Rights (CCHR)
Representative from the Swedish Embassy.
About this Page
Welcome to our hub for live coverage of significant political and human rights moments in Cambodia.
As situations unfold, we will provide on-the-ground updates from our field monitors and reliable sources, such as journalists and civil society partners.