Live Information Stream
This live stream has ended, content is archived
Good morning and welcome to LICADHO's coverage of day 2 of the trials of workers and human rights activists arrested during deadly clashes in November 2013 and January 2014. The details of each hearing are set out below:
Two people, including one minor arrested on November 12, 2013 during the violent clashes between security forces, workers and members of the public which put an end to a march by SL garment factory workers in November last year.
10 men, including union and community leaders, arrested on January 2 outside the Yak Jin factory in Phnom Penh during a brutal assault by Special Command Unit 911 on striking garment workers. Among the defendants in this case are Vorn Pao, President of IDEA (Independent Democracy of Informal Economy Association), Theng Savoeun, Coordinator of CCFC (Coalition of Cambodian Farmer Community), Chan Puthisak, community leader from Boeung Kak Lake, and Sokun Sombath Piseth, staff member at CLaRi-Cambodia (Center for Labor Rights of Cambodia).
Three people, including one minor, arrested in the early hours of January 3 on Phnom Penh's Veng Sreng Road following a violent crackdown by armed military police on peacefully protesting garment workers as they danced in front of a factory, angering local residents and workers alike resulting in a chaotic night of clashes.
10 men arrested on January 3rd when mixed security forces were deployed to clear Veng Sreng road and in doing so killed at least four men and injured numerous others.
Updated at 07:20 ICT
Last time, in the case of the two defendants arrested on November 12, both defendants and all the prosecution witnesses gave evidence. Only three of 14 prosecution witnesses claimed to recognize the defendants. In the case of the ten men arrested on January 2 outside the Yak Jin factory, four of the ten defendants testified and one prosecution witness. The two cases of the 13 men arrested on January 3 were amalgamated into one court room and the entire day was spent identifying the witnesses.
Hundreds of supporters and media representatives attempted to gather outside the court but were prevented from doing so by roadblocks positioned to the north and south of the court.
Heavy roadblocks greet observers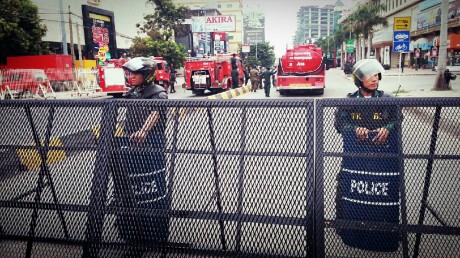 As on April 25, there are heavy roadblocks on either side of the court; to the north next to Wat Preah Pot, and to the south at Sihanouk Boulevard. Unlike last time, they have each been reinforced by the presence of three fire trucks. Police are asking for identification before allowing observers past the barricades.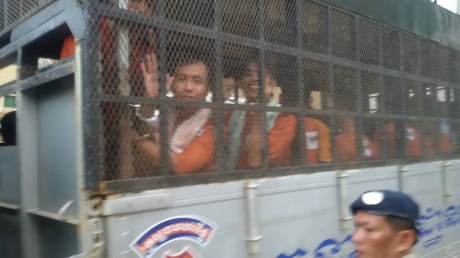 The defendants arrived at court from CC1 prison shortly after 6.15 this morning. In this photo you can see Vorn Pao, President of IDEA (Independent Democracy of Informal Economy Association) and Theng Savoeun, Coordinator of CCFC (Coalition of Cambodian Farmer Community).
The court is allowing one relative to enter the court for each defendant. So far there are 20 family members inside.
Updated at 07:12 ICT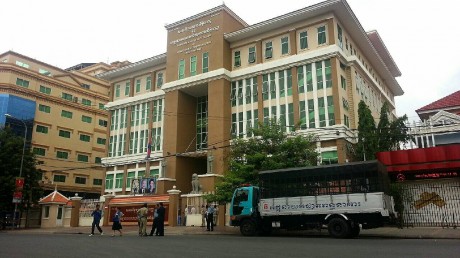 The four cases are being heard in three different court rooms:
Court room 1 – the ten men arrested in front of the Yak Jin factory on January 2
Court room 2 – the cases of the three men arrested on Veng Sreng Road in the early hours of January 3 and the case of the ten men arrested later that day also on Veng Sreng Road
Court room 3 – the case of the two individuals arrested on November 12, 2013 in Stung Meanchey
For more information on the defendants in court rooms 1 and 2, see their profiles here
Updated at 07:52 ICT
Observers present inside the court room include representatives from:
H&M
American Bar Association (ABA)
Swedish Embassy
Phnom Penh Post
Cambodian Center for Human Rights (CCHR)
Swedish International Development Cooperation Agency (SIDA)
East West Management Institute (EWMI)
Solidarity Center
International Commission of Jurists (ICJ)
European Union (EU)
Voice of Democracy (VOD)
Destination Justice
Updated at 07:49 ICT
The hearings were scheduled to start at 8am.
In court room 1, the benches are nearly full and many are taken up by prosecution witnesses, some of whom are from military unit 911. The defendants have been brought in and the hearing is now underway.
Court room 2 is full and all 13 defendants have arrived. The hearing is just starting.
In court room 3, both defendants and the judge and prosecutor have arrived.
inside court
In court room 1 a representative of UN Office of the High Commissioner for Human Rights (UNOHCHR) has arrived to observe. An EU representative was temporarily prevented from entering but is now inside the court. The judge is giving instructions to the witnesses present and defence witnesses are being asked to wait outside.
In court room 2 the judge has gone through the list of witnesses. 22 prosecution witnesses and 6 defence witness are absent.
In court room 3 UNOHCHR is also present. The lawyers for the defence are asking for a projector to show a video. The judge says video evidence is not allowed.
Updated at 08:25 ICT
Supporters continue to arrive outside court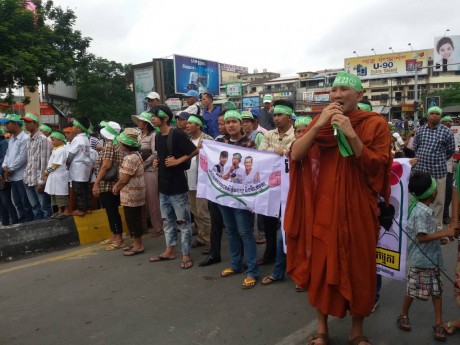 Gathering outside the court room in support of the defendants are representatives of Borei Keila and Boeung Kak communities, monks, families of the accused, approximately 100 supporters at the south barricade and about 30 at the north barricade. Media and human rights monitors are also present.
About this Page
Welcome to our hub for live coverage of significant political and human rights moments in Cambodia.
As situations unfold, we will provide on-the-ground updates from our field monitors and reliable sources, such as journalists and civil society partners.