Live Information Stream
This live stream has ended, content is archived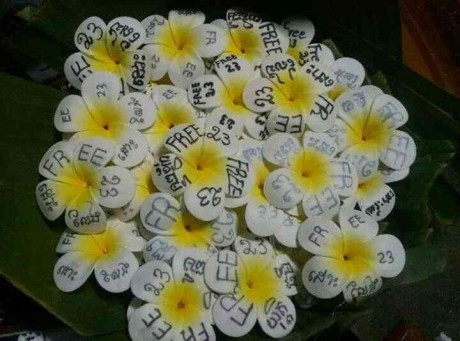 Good morning and welcome to LICADHO's continued livestream coverage of the trials of workers and human rights activists arrested during deadly clashes in January 2014.The details of each case are set out below:
10 men, including union and community leaders, arrested on January 2 outside the Yak Jin factory in Phnom Penh during a brutal assault by Special Command Unit 911 on striking garment workers. Among the defendants in this case are Vorn Pao, President of IDEA (Independent Democracy of Informal Economy Association), Theng Savoeun, Coordinator of CCFC (Coalition of Cambodian Farmer Community), Chan Puthisak, community leader from Boeung Kak Lake, and Sokun Sombath Piseth, staff member at CLaRi-Cambodia (Center for Labor Rights of Cambodia).
Three people, including one minor, arrested in the early hours of January 3 on Phnom Penh's Veng Sreng Road following a violent crackdown by armed military police on peacefully protesting garment workers as they danced in front of a factory, angering local residents and workers and resulting in a chaotic night of clashes.
10 men arrested on January 3 when mixed security forces were deployed to clear Veng Sreng Road and in doing so killed at least four men and injured numerous others.
On the first trial day, the cases of the 13 men arrested on Veng Sreng Road on January 3 were amalgamated and have been heard in one court room.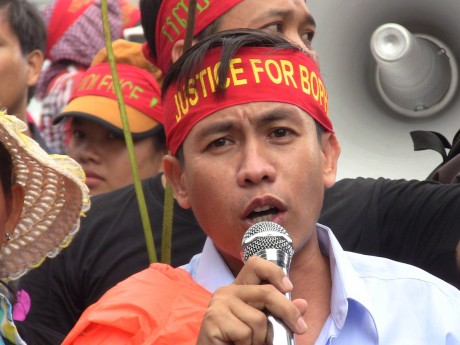 Yesterday both sets of proceedings continued until around 4pm.
In court room 1, the seventh defendant Sokun Sambath Piseth finished giving evidence during the morning session. He was followed by the eighth and ninth defendants Theng Savoeun, Coordinator of CCFC (Coalition of Cambodian Farmer Community) and Chan Puthisak, community leader from Boeung Kak Lake. Both described events outside the Yak Jin factory on January 2 but were interrupted by the judge and Deputy Prosecutor when speaking about the violence by the authorities that they witnessed. Towards the end of the afternoon yesterday Vorn Pao (pictured abve), President of IDEA (Independent Democracy of Informal Economy Association) began to give evidence. He will finish his testimony this morning.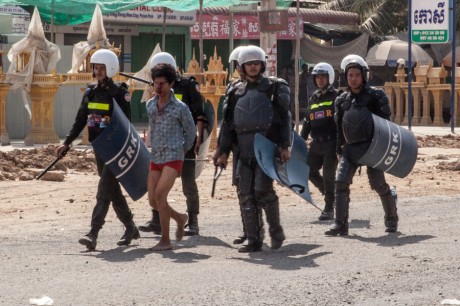 In court room 2 yesterday, 18 prosecution witnesses gave evidence to an audience of between 40 and 60 observers. Most witnesses were high or mid ranking commune and district police or military police who claimed to have been injured by protestors. None of them provided medical evidence of their injuries or could identify any of 13 defendants in courtroom. Despite being shown photos of injured defendants by the defendants' lawyers, witnesses who testified said the authorities did not carry guns or use force towards protestors.
The photo above (taken by the Community Legal Education Center on January 3) is of Ros Sophoan, one of the 23 defendants. During his testimony on May 6, the second trial day, he said that military police beat him then made him run then caught him again and beat him again. He required several stitches on his nose following the beating.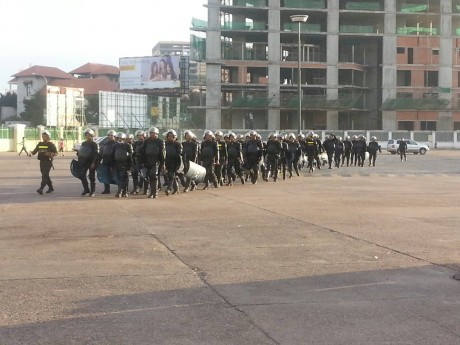 As on previous days, access to the court has been blocked by barricades; to the north of the court next to Wat Preah Pot and to the south at Sihanouk Boulevard. Each roadblock is reinforced by three firetrucks. Earlier, military police assembled inside the Olympic Stadium, opposite the court.
Updated at 07:43 ICT
Proceedings in court room 2 have just started and in court room 1 they are waiting for the judge to arrive. Observers inside the courtrooms today include representatives from :
UN Office of the High Commissioner for Human Rights
Phnom Penh Post
American Bar Association
Cambodia Daily
Solidarity Center
East West Management Institute
Cambodian Center for Human Rights
Voice of America
Updated at 08:09 ICT
In court room 1 Vorn Pao has now taken the stand again.
Below is a video of some of the defendants, including Vorn Pao, arriving at court earlier this morning.
Updated at 08:22 ICT
In court room 1, the judge is asking Vorn Pao about the events of January 2. Pao says that he telephoned the UN to ask them to go to the Yak Jin factory. The judge asked him why he did so and Pao replied that he asked them to go and negotiate for the release of three workers who had been detained. He says that he is the president of IDEA and therefore has a role to promote human rights, push for the rights of informal workers, and monitor any protests by workers.
In court room 2, the judge is now hearing evidence for the defence. The witnesses are relatives of the detained men, who were present on January 3.
Updated at 08:36 ICT
Advocacy materials confiscated
As Boeung Kak community representatives made their way to the court this morning, they were stopped by district security officers who confiscated some of the advocacy materials they had prepared for their protests today, including flowers and loudspeakers. City Hall reportedly ordered district security officials to confiscate these materials.
Some Boeung Kak representatives are now going to the the district security office to ask for their materials back, others are at outside the court now.
Yesterday Tep Vanny, community representative gave an interview in which she discussed today's advocacy strategy. She said that today she planned to wear traditional Khmer dress to support the 23 and ask authorities to release them. She explained that Boeung Kak community wanted to demonstrate peacefully.
Updated at 08:55 ICT
In court room 1, the Deputy Prosecutor is now questioning Vorn Pao. He is asking him how he travelled to the Yak Jin factory and whether he went in a big group. Pao replied that he went on his own.
About this Page
Welcome to our hub for live coverage of significant political and human rights moments in Cambodia.
As situations unfold, we will provide on-the-ground updates from our field monitors and reliable sources, such as journalists and civil society partners.