Live Information Stream
This live stream has ended, content is archived
international workers' day - plans and key locations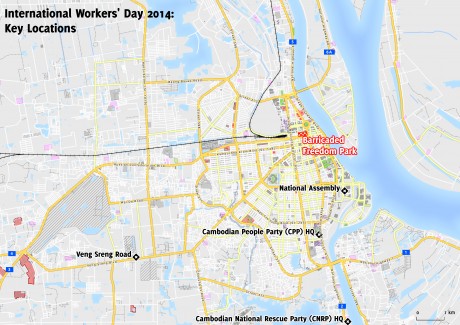 Good morning and welcome to our coverage of International Workers' Day. In anticipation of today's celebrations, authorities yesterday closed off Freedom Park, where some of the events are scheduled to take place. Razor wire, caged trucks and fences were put in place to block a small gathering and the park has since been inaccessible to the public.
Since January 4, 2014 when a ban on all public gatherings and marches was announced by the Ministry of Interior there have been regular attempts to demonstrate in Freedom Park and other parts of the city. Many of them have been prevented by authorities using violence.
As of last night, groups were still calling for people to assemble at the park, however, unions have also announced an alternative plan to gather at the National Assembly from where they will march to the headquarters of the Cambodian People's Party (CPP) and the Cambodia National Rescue Party (CNRP).
Also this morning, CNRP leaders Sam Rainsy and Kem Sokha plan to visit the Canadia Industrial Park on Veng Sreng Road to commemorate the deaths of the men who were killed there on January 3, during violence between striking garment workers and the authorities.
Updated at 07:11 ICT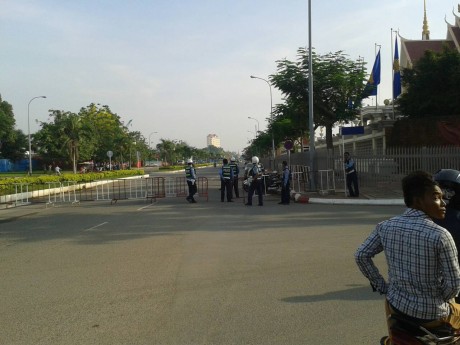 Entry to the road in front of the National Assembly, where unions had planned to gather, has just been blocked with fences.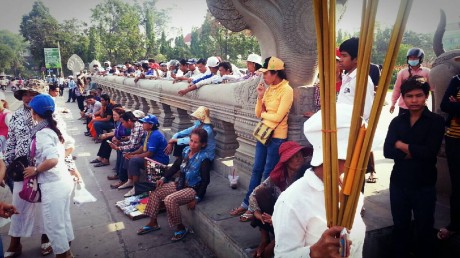 Freedom Park remains blocked by large barricades but workers are beginning to gather on the roads just outside the park.
Freelance journalist Abby Seiff is at the park watching as people gather.
Happy May Day. Plenty of cops and people gathering on corners a block away from Freedom park where 7 ft barriers up pic.twitter.com/dogXUCKkYx

— Abby Seiff (@instupor) May 1, 2014
Sam Rainsy and Kem Sokha arrive at Veng Sreng Road
CNRP leaders Sam Rainsy and Kem Sokha have arrived in front of the Canadia Industrial Park on Veng Sreng Road for the ceremony to commemorate the workers killed there on January 3.
show of force on Veng Sreng road
Hundreds of military police have left their Phnom Penh headquarters and are walking on Veng Sreng Road towards the CNRP event at which the party leaders Sam Rainsy and Kem Sokha are holding a ceremony to commemorate workers' deaths on January 3.
The military police are currently keeping their distance. Armed soldiers from Brigade 70 are also patrolling the road in military trucks.
Freelance journalist Kevin Doyle is on site.
Small unit of Brigade 70 troops with assault rifles and jeeps parked just off Veng Sreng street in Phnom Penh garment factory zone #May Day

— Kevin Doyle (@doyle_kevin) May 1, 2014
Updated at 08:26 ICT
About this Page
Welcome to our hub for live coverage of significant political and human rights moments in Cambodia.
As situations unfold, we will provide on-the-ground updates from our field monitors and reliable sources, such as journalists and civil society partners.