Live Information Stream
This live stream has ended, content is archived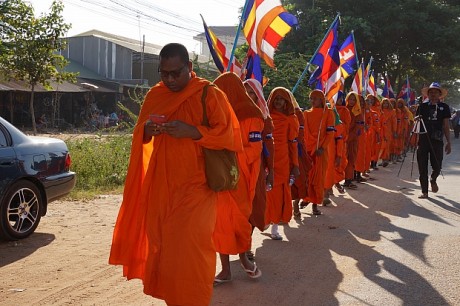 Tomorrow, November 25, 2014, renowned human rights defender Venerable Loun Sovath will appear before the Phnom Penh Municipal Court in a flawed and protracted judicial process aiming to silence him. He has been charged with "incitement to commit a felony" for joining and supporting, both domestically and from abroad, demonstrations against government authorities by victims of land disputes in Chi Kreng, Siem Reap, and Boeung Kak lake, Phnom Penh. If convicted, Venerable Sovath faces up to two years in prison and a fine of US$1,000, equivalent to over 4,000,000 Cambodian Riels.
Venerable Sovath is internationally known as the "multi-media monk" and his efforts to voice the human rights abuses against vulnerable communities and human rights defenders in Cambodia have been recognized globally by the United Nations, foreign governments and policymakers, and international non-government organizations (INGOs).
Updated at 16:40 ICT
The Cause of Progress: Venerable Sovath
If we stay close to fear, then we will be brave. But if we try to stay away from our problems, then the problems will come to us
This is a short teaser from the upcoming documentary 'The Cause of Progress' by independent filmmaker Chris Kelly. The documentary charts the Venerable Loun Sovath's journey to becoming an internationally acclaimed Human Rights Defender.
Updated at 17:08 ICT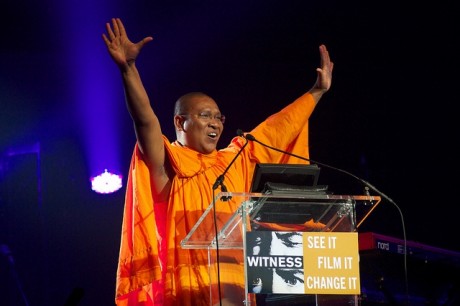 Photo of Venerable Sovath receiving the "See it. Film it. Change it" Award, courtesy of WITNESS.
In 2010, Venerable Sovath was recognized by the Office of the United Nations High Commissioner for Human Rights (OHCHR) in their 2010 Human Rights Defenders video, while also receiving the "See it. Film it. Change it" award from international human rights organization WITNESS. Less than a year later, Venerable Sovath was awarded the prestigious Hellman/Hammett grant from Human Rights Watch for his efforts to support communities facing forced evictions and land-grabbing in Cambodia.
Most notably, Venerable Sovath was awarded the 2012 Martin Ennals Award for Human Rights Defenders on October 2, 2012, becoming the first Cambodian to receive the honor. The award, referred to by many as the "Nobel Prize for human rights defenders," was created in 1993 to honor and protect individuals who demonstrate exceptional courage in defending and promoting human rights.
This ends our livestream for this evening. Please join us tomorrow for more updates.
Updated at 17:20 ICT
Morning Mobilizations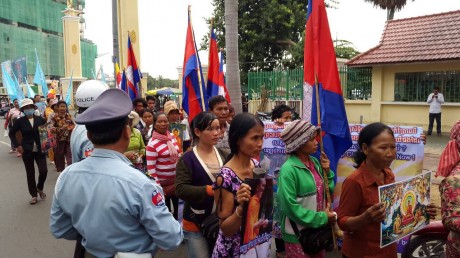 Supporters from both Chi Kreng and Banteay Srei in Siem Reap, and Boeung Kak lake, Phnom Penh, are now mobilizing and making their way to the courthouse, including Cambodia National Rescue Party Member of Parliament Mu Sochua. Three trucks of police are waiting inside Olympic Stadium as 100-150 supporters arrive.
Updated at 07:39 ICT
Venerable Sovath's trial has gathered attention from the international community as representatives from the Office of the United Nations High Commissioner for Human Rights (OHCHR) and international embassies such as Sweden, Germany, Switzerland, and the European Union (EU) take their seats. International non-governmental organizations (INGOs) DanChurchAid and Amnesty International are also present.
Deputy Director for Southeast Asia and the Pacific at Amnesty International, Rupert Abbott is tweeting the trial.
At Phnom Penh Municipal Court to show @AmnestyOnline's support for Venerable @SOVATH_HRD. His community waits outside pic.twitter.com/9oEeykPXJ2

— Rupert Abbott (@RupertBAbbott) November 25, 2014
Updated at 08:31 ICT
COURT PROCEEDINGS now underway
Court proceedings are underway as supporters outside the courthouse now number over 200.
Updated at 10:19 ICT
About this Page
Welcome to our hub for live coverage of significant political and human rights moments in Cambodia.
As situations unfold, we will provide on-the-ground updates from our field monitors and reliable sources, such as journalists and civil society partners.