Live Information Stream
This live stream has ended, content is archived
Barricades at Freedom Park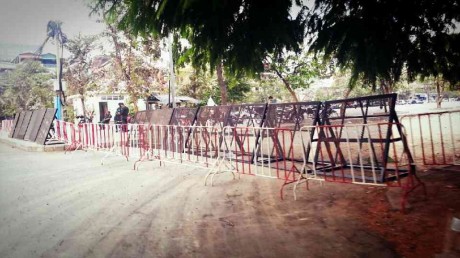 Participants are expected to arrive at Freedom Park at 8.00 am. They will be met by barricades.
Omar Havana a Phnom Penh-based photojournalist is at Freedom Park.
Police forces sealing up Freedom Park before todays forum at Phnom Penh #Cambodia. Photo: ©Omar Havana pic.twitter.com/PhbjOJON1n

— Omar Havana (@OmarHavana) March 8, 2014
LICADHO monitors on the scene at Freedom Park report security guards kicking motorbikes and hitting them with batons. At the same they are forcing journalists and observers from the site.
Updated at 13:16 ICT
LICADHO monitors around the city are reporting that police have set up check points on several national roads. So far the roads are not blocked and they are letting people pass. Checkpoints confirmed by our monitors are located at
National road #1: Check point in front of Borey Peng Huot in Chhbar Ambov district
National road #2: Check point at Takmao roundabout in front of provincial court
National road #5: Check point at Preak Pnov bridge in northern Phnom Penh.
Updated at 08:26 ICT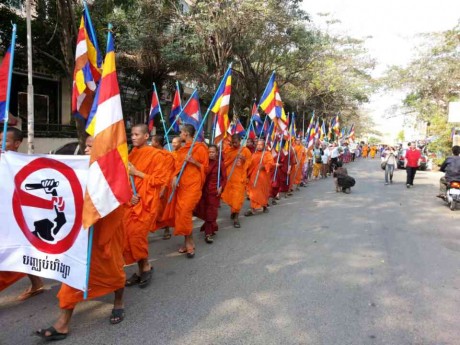 Around 40 monks and 100 members of Boeung Kak, Borei Keila and Tmor Kol communities are marching to the Ministry of Women's Affairs to mark International Women's Day.
Moses Ngeth, a staff member from local NGO Community Legal Education Center is at the scene.
Boeng Kak Lake women is celebrating #WomensDay #IWD2014 #Cambodia #RightsKH pic.twitter.com/oUrgrOGdy4

— Moses (@mosesngeth) March 8, 2014
Updated at 08:48 ICT
Senior journalists are covering events. Freelance journalist Robert Carmichael and Cambodia Daily Editor-in-Chief are close at hand.
Welcome to Women's Day. Cambodia-style. pic.twitter.com/qTsKp3kXxJ

— Robert Carmichael (@Carmichael_Rob) March 8, 2014
Riot police standoff with marchers in Phnom Penh demanding the release of 21 protesters detained on Jan 2 & 3 pic.twitter.com/EFdB1JCBf9

— Kevin Doyle (@doyle_kevin) March 8, 2014
Updated at 09:02 ICT
At the Dragon Bridge next to Freedom Park, about 500 people are gathered. Their way is blocked by security guards but about 100 of them have managed to walk slowly together to the edge of the barricaded park. The security guards retreated as they walked.
Updated at 09:15 ICT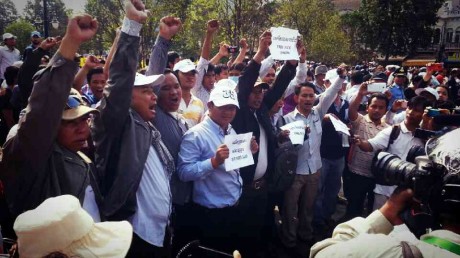 Union leaders have managed to move to the edge of Freedom Park where they are addressing the public and the media.
Meanwhile, at Freedom Park, the standoff continues. Cambodia Daily Editor-in-Chief is reporting from the site.
Two trucks carrying police armed with tear gas launchers pass near standoff between 100+ riot police & Women's Day Marchers #Phnom Penh

— Kevin Doyle (@doyle_kevin) March 8, 2014
Updated at 09:35 ICT
On Monivong Boulevard, the marchers have given up their attempts to proceed and are turning round and going back to their villages to celebrate International Women's Day there. They have been unable to deliver their petition which called for justice for the 21 men who remain in detention after their arrests in early January. Among the 21 is Chan Puthisak whose wife was marching with the group today.
The petition asked the Ministry of Women's Affairs to:
intervene with the court in the case of arrested land rights activist, Chan Puthisak and open the hearing immediately for the 20 other arrested people in order to provide justice and to release the 21 without condition so that they can meet with their families.
Updated at 09:59 ICT
About this Page
Welcome to our hub for live coverage of significant political and human rights moments in Cambodia.
As situations unfold, we will provide on-the-ground updates from our field monitors and reliable sources, such as journalists and civil society partners.