Live Information Stream
This live stream has ended, content is archived
The 5 CNRP politicians are:
Mu Sochua, lawmaker-elect, Battambang
Men Thavrith, lawmaker-elect, Kampong Thom
Keo Phearum, lawmaker-elect, Kratie
Ho Vann, lawmaker-elect, Phnom Penh
Real Khemrin, lawmaker-elect, Svay Rieng
The first three were arrested yesterday morning during the violent clashes which broke out at a CNRP-organised demonstration to protest the months-long closure of Phnom Penh's Freedom Park. Ho Vann was arrested later in the day when he voluntarily attended the police station and Real Khemrin was arrested this morning. They arrived at court shortly after 7 am with a heavy police and military police presence.
Updated at 11:02 ICT
The CNRP press conference is underway and is being chaired by party leader Kem Sokha. He has said that the violence at Freedom Park yesterday was started by the authorities and that he has evidence to prove it. He has shown video footage of yesterday's violence. In the picture above, Sokha is showing a picture of the 5 CNRP politicians with their hands cuffed behind their backs.
Updated at 09:40 ICT
In a letter dated yesterday, the Council of Ministers announced that it will be holding a press conference at 11 am about the violence at Freedom Park. The conference will be chaired by Keo Remy, Secretary of State for the Council of Ministers.
Updated at 09:59 ICT
The CNRP press conference has now finished. Kem Sokha asked for all CNRP politicians present to prepare to go to the Municipal Court shortly.
Supporters call for release of MPs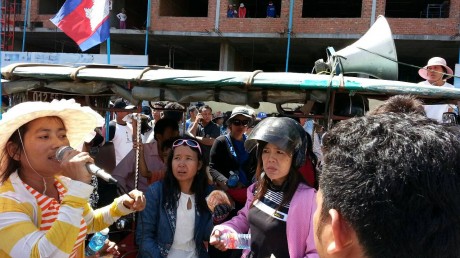 At the northern barricade, protesters are showing their support for MPs. One supporter tells the crowd she has come from Kampong Chhnang to ask the court to release the MPs. Another asks the court not to detain them for use as a bargaining chip in political negotiations.
Updated at 10:11 ICT
Freelance journalist Kevin Doyle is following today's events. Like the supporters outside the court, he notes the political significance of today's events.
If 5 Cambodian opposition lawmakers are jailed today, it gives Hun Sen strong bargaining chip to force opposition end boycott of parliament

— Kevin Doyle (@doyle_kevin) July 16, 2014
About this Page
Welcome to our hub for live coverage of significant political and human rights moments in Cambodia.
As situations unfold, we will provide on-the-ground updates from our field monitors and reliable sources, such as journalists and civil society partners.