Live Information Stream
This live stream has ended, content is archived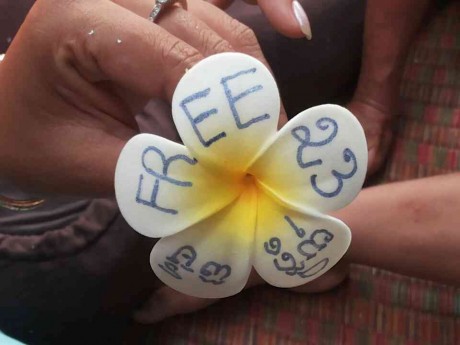 Welcome to LICADHO's coverage of day 3 of the trials of workers and human rights activists arrested during deadly clashes in January 2014. The details of each case are set out below:
10 men, including union and community leaders, arrested on January 2 outside the Yak Jin factory in Phnom Penh during a brutal assault by Special Command Unit 911 on striking garment workers. Among the defendants in this case are Vorn Pao, President of IDEA (Independent Democracy of Informal Economy Association), Theng Savoeun, Coordinator of CCFC (Coalition of Cambodian Farmer Community), Chan Puthisak, community leader from Boeung Kak Lake, and Sokun Sombath Piseth, staff member at CLaRi-Cambodia (Center for Labor Rights of Cambodia).
Three people, including one minor, arrested in the early hours of January 3 on Phnom Penh's Veng Sreng Road following a violent crackdown by armed military police on peacefully protesting garment workers as they danced in front of a factory, angering local residents and workers and resulting in a chaotic night of clashes.
10 men arrested on January 3 when mixed security forces were deployed to clear Veng Sreng Road and in doing so killed at least four men and injured numerous others.
On the first trial day, the cases of the 13 men arrested on Veng Sreng Road on January 3 were amalgamated and have been heard in one court room.
Updated at 16:43 ICT
Pre trial day preparations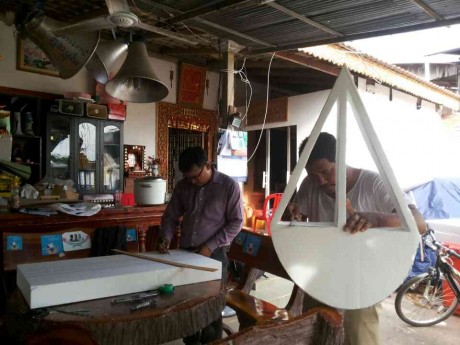 At the Boeung Kak community, supporters of the 23 are preparing for tomorrow's hearing. Here, they are making a scales of justice.
Boeung Kak community leader Chan Puthisak is among the 23. On the previous two hearing days, supporters of the 23 were prevented from demonstrating in front of the court by roadblocks but they remained at the barricades throughout to show their support.
Updated at 17:10 ICT
Workers show support for 23
This morning, Cambodia Express News reported that 500 workers at the Tong Zhe garment factory had gathered to show their support for the 23. As well as asking that the 21 remaining detainees be released and that charges against the 23 be dropped, they also made 18 demands for improved conditions including a fixed date for payment of salary, an end to compulsory overtime, and money for meals and transport.
round up of events so far
In the case of the 10 men arrested in front of the Yak Jin factory, six defendants have given evidence. The seventh defendant, Sokun Sambath Piseth, was in the middle of giving evidence when the hearing was adjourned. In the hearing of the 13 men arrested on Veng Sreng Road, all 13 defendants have given evidence and the court has now moved on to the witnesses.
On both previous trial days, judges heard evidence from witnesses and defendants until mid-afternoon when proceedings were interrupted so that the defendants could be transported back to CC1 prison.
Outside court, on both previous hearing days, the authorities placed barricades across the road to the north and south of the court, to prevent supporters of the defendants approaching the court entrance. On May 6, the second trial day, the authorities erected double roadblocks and had fire trucks standing by.
That ends our coverage for this evening. Join us tomorrow morning for live coverage of trial day 3, both inside and outside the court.
Updated at 17:30 ICT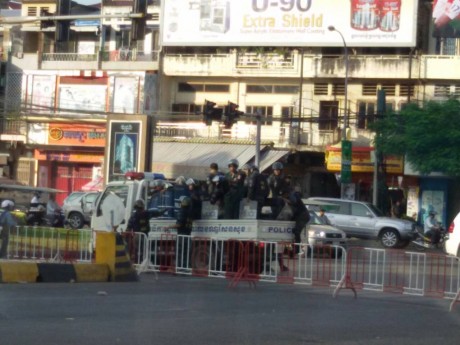 Good morning and welcome to LICADHO's livestream coverage of day three of the "Free the 23" trial. As on the two previous trial days, heavy roadblocks have been set up to the north of the court next to Wat Preah Pot and to the south at Sihanouk Boulevard. Each roadblock is made up of two sets of barricades a short distance apart and is reinforced by three firetrucks. Opposite the court, inside the Olympic Stadium, around 40 security guards have gathered. Some are carrying electric batons.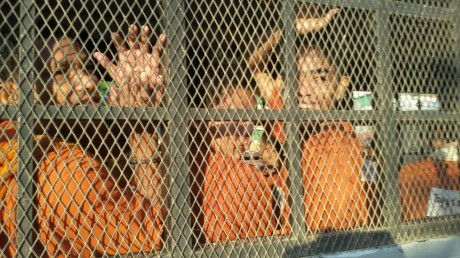 The 21 defendants who have not been released on bail arrived at court from CC1 prison shortly after 6 o'clock this morning. Some witnesses, as well as family members of the defendants, have also arrived and are waiting inside the court building.
STUNG MEANCHEY – A "DEEPLY FLAWED" TRIAL
On the two previous hearing days, as well as the cases of the 23 men arrested in early January, the cases of one man and one male minor who were arrested on November 12, 2013 were also heard. Their arrest took place in the Stung Meanchey area of Phnom Penh during violent clashes between security forces, workers and members of the public which put an end to a march by SL garment factory workers. They are charged with aggravated intentional violence, aggravated intentional damage, insult to public officials and obstruction of public officials, and face lengthy prison sentences if convicted. The trial finished on May 6 and the verdict is due to be announced on May 30. Following the hearing, Human Rights Watch published an anaysis of the trial which found it to be deeply flawed on a number of grounds:
The defendant Meas Nun is a child living with an intellectual disability but the court gave him none of the protections due to him under international law
The judge refused the defence lawyer permission to show video evidence that contradicts allegations that defendant Vanny Vanan was involved in criminal acts
The judge was openly hostile to the two defendants, their lawyers and two exculpatory witnesses
Commenting on the case, Human Rights Watch Asia Director, Brad Adams said:
The Cambodian authorities should be prosecuting the unnecessary use of lethal force by security forces instead of trying to convict a misidentified young man and a teenage boy with a disability. Once again in Phnom Penh, the wrong people are in the dock, and the security forces who provoked the violence enjoy impunity for killing and wounding people with indiscriminate gunfire.
Moeun Tola, Head of Labor Program at the Community Legal Education Center just tweeted a photo of Boueng Kak community leader Chan Puthisak being silenced by a prison guard.
Chan‌ Puthisak was trying to tell public about injustice, but his mounth covered by prison guard. Photo by Maly‌ pic.twitter.com/PwtLSF3W2L

— Tola Moeun (@Tolamoeun) May 20, 2014
Updated at 07:29 ICT
In court room 1 the case of the ten men arrested in front of the Yak Jin factory on January 2 has just started. In court room 2, the cases of the three men arrested on Veng Sreng Road in the early hours of January 3 and the case of the ten men arrested later that day also on Veng Sreng Road has also started. Observers in the court rooms include representatives from:
UN Office of the High Commissioner for Human Rights
H&M
Solidarity Center
Swedish Embassy
German Embassy
EU Embassy
Destination Justice
American Bar Association
Human Rights Watch
Radio Free Asia
EWMI
Phnom Penh Post
Voice of America
Cambodian Center for Human Rights
Updated at 08:03 ICT
About this Page
Welcome to our hub for live coverage of significant political and human rights moments in Cambodia.
As situations unfold, we will provide on-the-ground updates from our field monitors and reliable sources, such as journalists and civil society partners.